Context
A study carried out in 2014 in a dozen villages of Idjwi Island (around Kashofu) counted 47 deaf children under 16 years old and about ten adults. None of these children were in contact with any school environment. This high prevalence of deafness can be explained by 3 factors: genetic (25%), accidental (35%) and pathological (40%).
Idjwi is the largest island in the DRC and the second largest in Africa, completely isolated by water.
Since 2018, La Voix des Anges School has been welcoming hearing-impaired children. In 2019, the boarding school was created.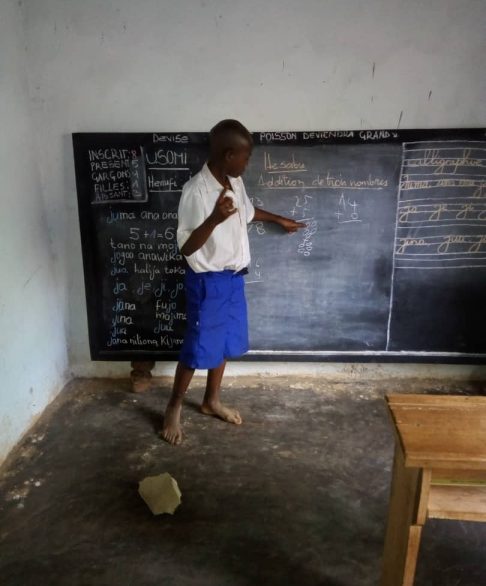 Beneficiaries
All deaf children on the island, aged between 4 and 14, and their families.
Objective
La voix des Anges entend soutenir le développement communautaire par une meilleure scolarisation des enfants handicapés, et spécialement des enfants malentendants issus de familles défavorisées.
Results
The first project was the creation of a primary school which used Swahili and French sign languages. It has been operational since September 2016 and welcomes around 50 children aged between 4 and 14. Since the 2022-2023 school year, the school has been giving the entire primary and secondary cycle, and the boarding school welcomes an average of 25 children.
In collaboration with the Marie-Marguerite Delacroix Foundation, the support of the JFP Foundation has enabled (1) the rehabilitation of the school's premises, allowing the children to to have access to the boarding school throughout the school year and (2) the hiring of a third specialised teacher.
Our actions
Whether on a national or international level, we want to offer young people the best possible opportunities for the future. We support projects through concrete action on the ground thanks to our partner organisations
See all our actions
How can you support
our projects?
Support the projects that are close to your heart by making a donation, leaving a legacy or becoming a patron of the Foundation.
Make a donation